Standing in Unity Concert and Art Auction, and the We Care Campaign #MMIW
On November 23rd, 2014, musicians and artists in Winnipeg came together, along with community members and families of missing and murdered indigenous women, to stand in unity, and to say loudly, with one voice, "We Care!"
Wow, I was so, so moved by this event. People of all backgrounds, indigenous and non-indigenous, came together in an expression of love and unity.
The idea for the show started in the Summer of 2014. I was shaken by the news of Tina Fontaine, a 15 year old First Nations girl whose body had just been found in the Red River. My heart broke and my anger boiled. I became more educated and aware about missing and murdered indigenous women, colonialism, and connected social issues. I wanted to do something to contribute to writing the wrongs of a colonial history. I wanted to help acknowledge and correct inequity and injustice. I wanted the world to be a safe place for indigenous women and girls. And I wanted to help spread the word, because I believe that this is an issue for all Canadians, for all those who believe that indigenous women have the right to safety and equality.
Family friend and First Nations activist Leah Gazan and I started talking. We thought it would be good if a diverse group of people from indigenous and non-indigenous backgrounds could gather in solidarity over this issue, in our city of Winnipeg. Leah suggested a fundraising and awareness concert, and we set to work. Leah, it was a pleasure and an honour to work with you! This remains true, as we continue our work together! Here we are, myself and Leah, at the CBC Winnipeg newsroom the Sunday morning of the show. "Little women, big change!"
Coalition for Families of Murdered and Missing Indigenous Women
The event raised money for the Coalition of Families of Missing and Murdered Indigenous Women of Manitoba (CFMMIWM). The coalition, run by beautiful and compassionate people I have had the great pleasure of meeting, reaches out to families of missing and murdered indigenous women and girls, to offer support, resources, and community. I got to spend some time with coalition organizer Bernadette Smith; She does this work with such love and strength. I admire her very much.
The coalition invited some families of MMIW. Thank you so much for coming. We were honoured that you came.
We Care Campaign
Alongside the concert and art auction, we launched the #WeCare Campaign #MMIW, a social media photo campaign where Canadians of all backgrounds can easily express their support for this issue. The We Care Campaign was the subject of a great CBC news piece that week! The hub for the campaign is the #WeCare Campaign facebook page.
The #WeCare Campaign is a firm statement of solidarity to let all levels of government in Canada know that #WeCare, and we will not stop until Indigenous women and girls can enjoy safety in cities, towns, and communities throughout Turtle Island. The We Care photos serve as visible, measurable evidence that this issue matters to Canadians.
Sharon Humphrey of Dollybird Photography and Design took a lot of pictures that night! Thank you Sharon! Many, many more people have posted their own photos on the facebook page.
It's easy to be a part of the We Care Campaign!
1. Take a photo with a "#We Care #MMIW" sign
2. Post it onto the We Care Campaign facebook page, and onto social media with the hashtags #wecare #mmiw. It also really helps to like the facebook page, and to share the page.
3. Invite your friends and family to do it too!
We are working hard to keep the campaign rolling, presenting at different events and organizations. The more photos and facebook likes collected, the more strength there is to use the campaign as a tool for political pressure. Please, keep those photos coming!
The Stage: Elders, Speakers, Musicians and Artists
Gramma Shingoose and her helper Lorraine opened the event with prayers and acknowledgements of MMIW. It was beautiful.
A women's drum group, Keewatin Otchitchak, sang as part of the opening. It was so powerful.
Bernadette Smith, of the CFMMIWM spoke about the coalition and her own experiences. It was so powerful to hear your story, Bernadette. Thank you for speaking and sharing.
Musicians
Amazing musicians and artists donated their performances and art! The response from musicians and artists was an immediate outpouring of love and support, with no hesitation. Thank you, to all you wonderful contributors! And to those who wanted to contribute but scheduling got in the way! It was so beautiful to witness your compassion. It is so wonderful to know you all! Phenomenal photos of the bands are by the multi-talented Hillarie Tasche.
Sweet Alibi, you guys sounded SO AWESOME. Especially when you invited the women from the drum group to play a song with you.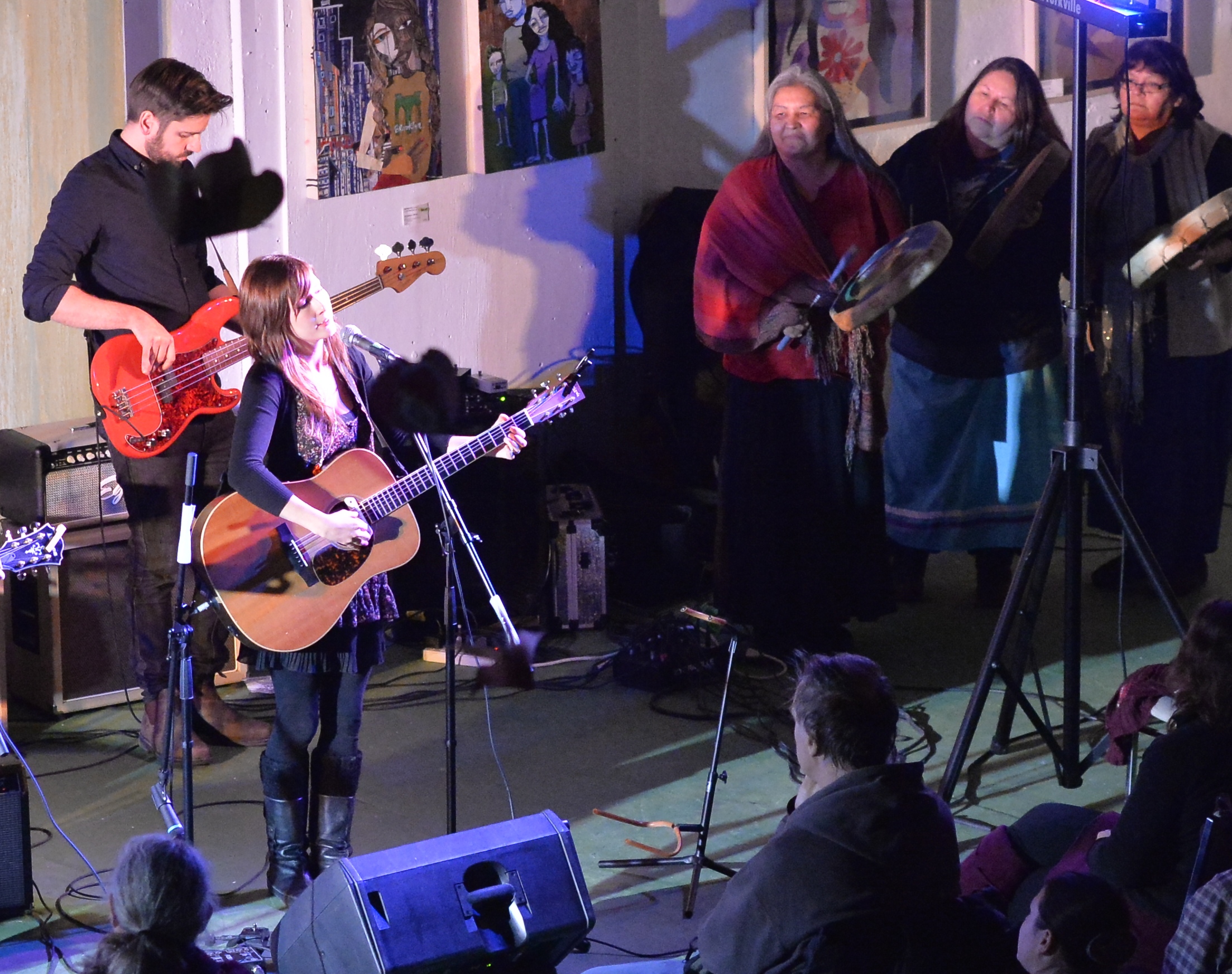 Raine Hamilton. I played a set with the fantsastic Ameena Bajer-Koulak on fiddle. Thanks Ameena! I also threw in a tune where I sing and play the fiddle at the same time.
Boogey the Beat had a fantastic set, including a piece about missing and murdered indigenous women and girls. So powerful! Hear it here.
Heartbeat City! I love these guys! Such a good, honest, vibe. Love this set!!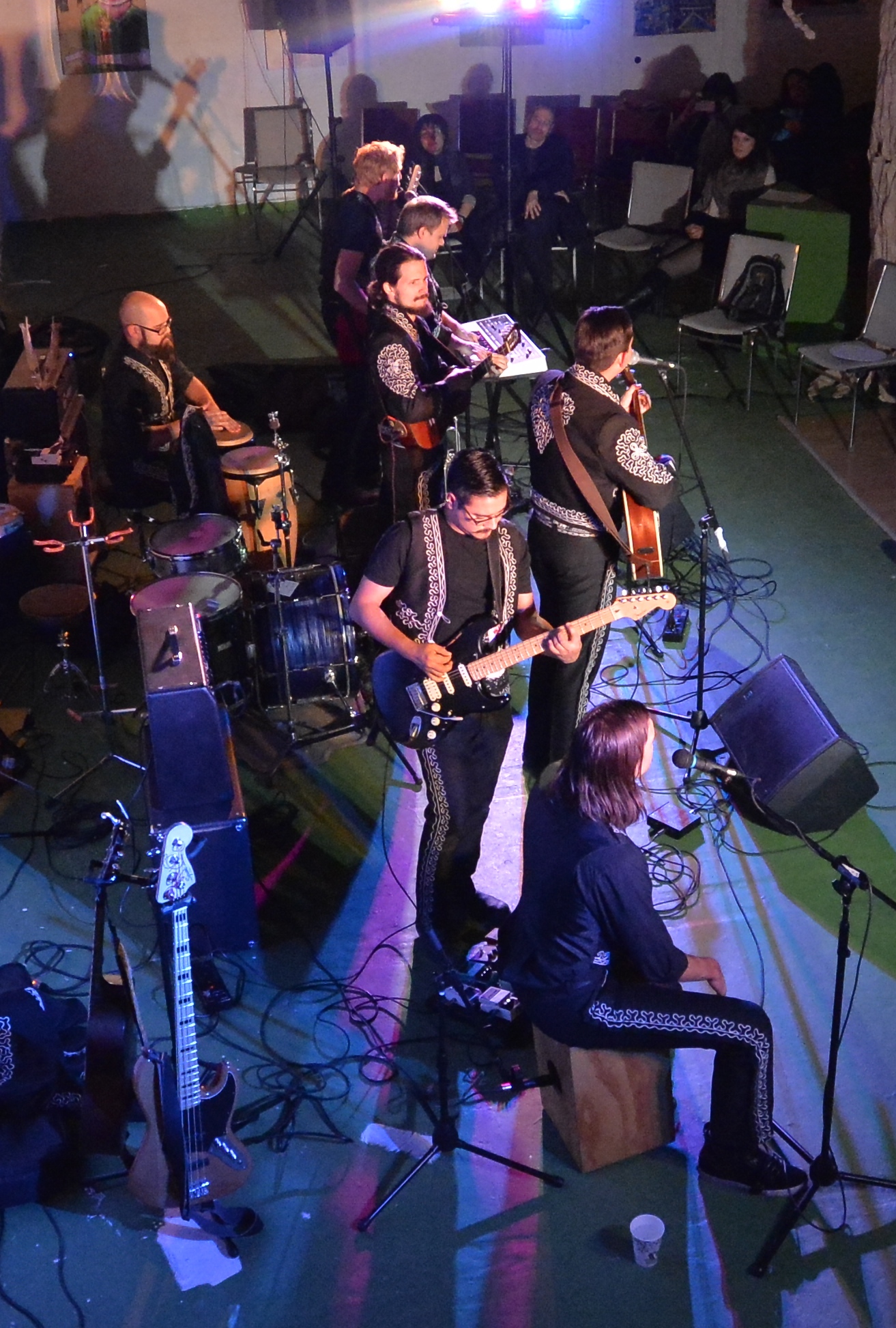 Slow Spirit! Such love I feel for this band! Their sound is such a trip.
Art Auction
The art auction featured 12 local artists, who donated beautiful pieces! Thank you so much to the artists and bidders! And to Hillarie Tasche for her awesome work organizing the auction!
Artists included:
Hillarie Tasche
Carolyne Kroeker, check out her blog post about the event!
Madeleine Roger
Ursula La Rue
Doug Wiebe
Lisa Bissett
Josée Montreuil
Gratitude!
Thank you! To all of the performers and artists, to the Graffiti Gallery for donating their space, to the CFMMIWM, to all those who have posted photographs on the We Care page, to Sharon of Dollybird Photography, to Carolyne Kroeker for her amazing graphic design, to Barb Hamilton for making a thousand delicious cupcakes, to Mikey for the sound, to Long and McQuade for equipment loans, to Hillary Tasche for organizing the art auction and taking photos, to my family for their awesome help, to the audience and volunteers who made food, manned the door and helped organize, I am grateful for you all!
And now?...
Now, the work continues. We're presenting the campaign to various organizations within Winnipeg, and we're taking it on the road! Our goal is to use the campaign as a tool to create political pressure, showing that a huge, measurable number of Canadians are concerned about this issue. We want to help make MMIW a federal election issue.
Also, We're planning a second #We Care concert, Friday March 27th at the Exchange Community Church, 75 Albert Street in Winnipeg. More details to come!
Please take a #WeCare #MMIW photo, like the facebook page, and spread the word.